Members can post pictures and other items of interest. Contact NORDA!
Do you have pictures that you think would be of interest to the membership. Send an email with the pic's as attachments and we'll put one here with the information about you and others in the pic, the car, the event, etc.

We can also have links to members personal web sites from the pic's.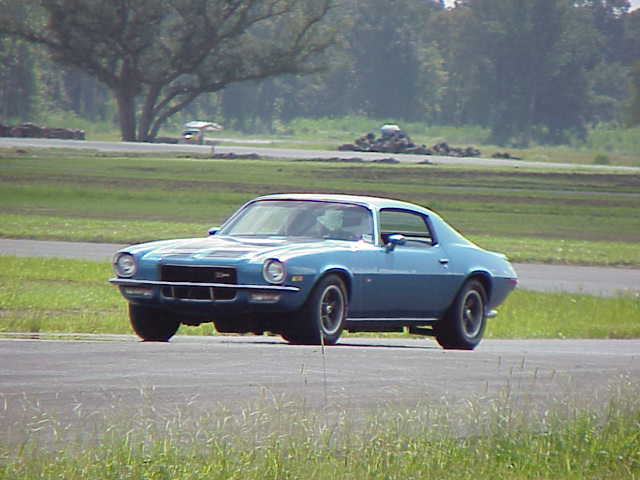 Mike LeJeune's 1970 Chevrolet Camaro Z28

This project was started in 1995 and completed in 1999. We originally intended this to be a restified cruiser that would see a little drag strip duty....that was until NPR opened with a road course! We took this car out on the inaugural open lapping day at NPR and I was hooked. Ever since, we've been slowly modifying the car to be a better all around cruiser, drag machine, and road course stormer. So far it has held up well to all the track abuse, particularly the way Winston makes me drive it...ha ha! Sincerely, thanks for all your guidance Winston.

Best road course lap times at NPR have been in the 1:35's. Best 1/4 mile e.t. was 12.21@115 mph, also at NPR (before I twisted an axle last year!). We drive the car 90 miles to the track from Youngsville, LA which is just South of Lafayette. It's a long hot drive in the summer but that's all part of the experience.

And, here's the result at work on the Grand Bayou Circuit,
and the technical details:
Wet weight:
3550 lbs, 56/44 distribution front to rear
Engine:
1984 454 2 bolt main, bored .030", cast crank, stock rods, Keith Black 9.5:1 pistons, GM alum oval port heads 2.19/1.88 valves, 850 dp carb, Edelbrock Torker 2-0 intake, Crane hydraulic flat tappet cam, Hedman headers, 2.5" flowmaster exhaust system with cutouts, MSD 6AL ignition. Runs on 89 octane pump gas.
Trans:
Richmond 6 speed close ratio(replaced original Muncie M21), .76 overdrive 6th gear. Aluminum RAM flywheel, Centerforce Dual Friction Clutch.
Rear:
Factory 12 bolt posi, 3.73 gears, Moser axles
Brakes
: Front-12" disc from 83 Impala station wagon, stock calipers. Rear - 11" disc from 79 Trans Am, 79 Monte Carlo calipers. 79 Trans Am master cylinder and power brake booster.
Suspension: All polyurethane bushings, 1.25" and 13/16" front/rear sway bars, stock springs, Moroso Herb Adams 3-way shocks adjusted on firmest setting. SSM traction bars and Comp Engr. subframe connectors installed.
Safety:
Autopower 4 point bolt-in race bar, Simpson harnesses.
For lots more info and a really great Website:
http://www.eatel.net/~lejeunemb
Mike replied to our thank-you for the submittal: Yes we've got a 454 in there since the original 350 LT1 was gone when we got the car. I wanted something that made reliable power on cheap pump gas. It was a bolt-in deal too. I shift at about 5700 rpm and the rev limiter is set at 6200 rpm. On the road course, I run in 4th and 5th gears which are equivalent to 3rd and 4th on the old Muncie 4 speed. The torque band is so fat on this motor that I don't need to downshift any more. The revs stay between 3500-5700 for the entire course which definitely helps durability. We'll look forward to next week's news and maybe that will get some other guys/gals sending in some of their cars too. Regards, Mike

-- Thanks, Mike and Brenda for a really great submittal and an incredible car with a story to match!!! Monte